The Macon County Soccer Club (

MCSC

) is a 501(c)3 not for profit organization providing children and families in Western North Carolina with both recreational and competitive soccer programs.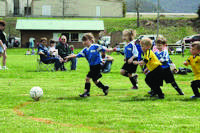 The Macon County Soccer Club wishes to invite you and your children to an exciting game of speed, finesse, endurance and skill. Located in Franklin, NC in the beautiful mountains of Western North Carolina. Soccer is America's most popular participation sport for youth, and is a fun and healthy activity for all kids! Whether you are newcomers to soccer or desire to compete at a higher level, we have the right program for you!
Our Recreation Program is the right program for entry level players ages 4 to 14, and for players who are just looking for some fun and exercise in a friendly team atmosphere. The U-5 and U-6 age levels do not track scores and standings. The U-8, U-10 and U-12 age levels become a little more competitive with tracked scores, standings and a post-season tournament.
Our more competitive programs start with the Academy program.
This program is a regional travel league that serves players ages 8 to 10. Macon County Soccer Club also hosts and contributes to Western North Carolina United teams in the Challenge and Classic Leagues, fielding players from 11-18 years of age for higher levels of competitive soccer.